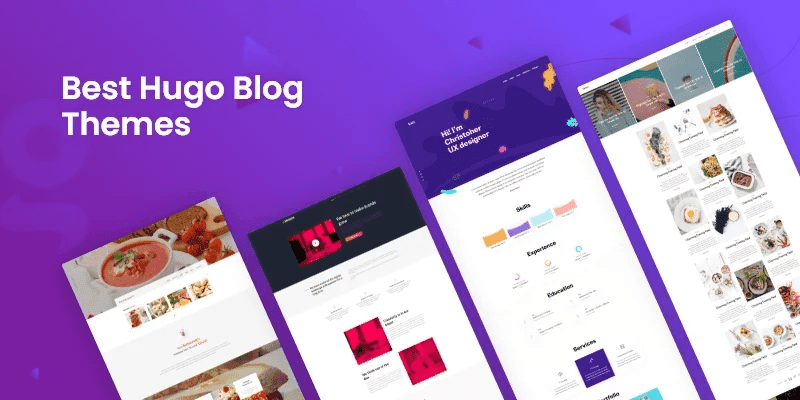 Currently, there are lots of platforms to create a blog site. Hugo, on the other hand, is one of the most popular open-source static site generators, with a wide range of blog-creating options. Hugo-based websites are faster, more secured, and easy to utilize compared to any other platforms.
Apart from the technical side, the Hugo community is massive enough to get quality support as you will find a lot of pro developers there. By the way, you will find plentiful Hugo blog Themes, but all of them are not worthy of creating a blog site. After doing intensive research, we have listed these Best Hugo blog themes to save your time and money.
Logbook - Best Hugo Blog Theme [Editor's Pick]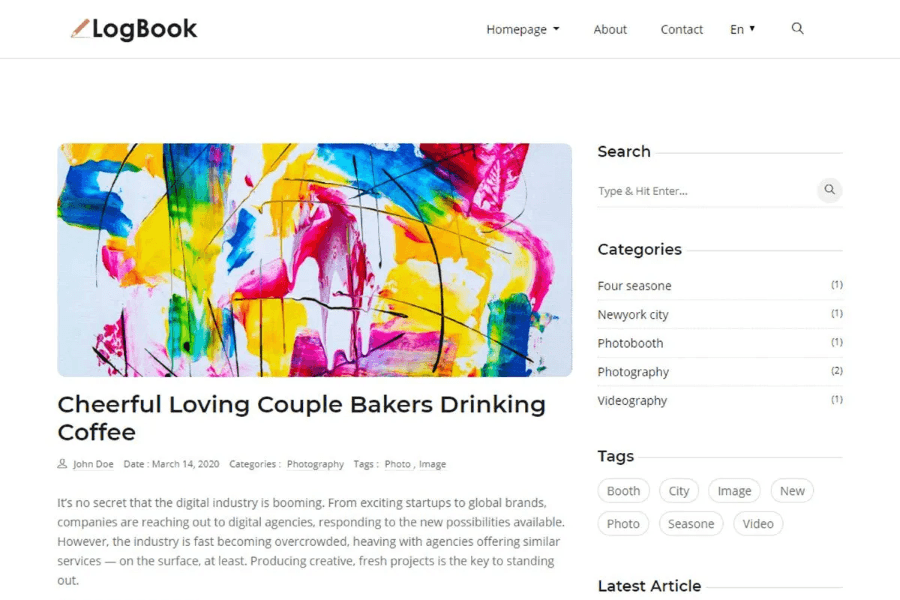 Looking for an ideal creative blog theme? LogBook is a highly customizable blog theme worth looking into. This theme offers you all the features packed within to create an engaging blog site. The 9 homepage layouts of this theme will allow you to provide a unique blogging experience for the visitors.
Due to the Snipcart integration on this theme, you can sell your service or products apart from managing content. The performance score of 90 reflects the incredible speed of this theme, according to Google PageSpeed insights. So, with the Logbook theme, make your blogging journey more enjoyable than ever before.
More Info
Demo
Reader - Hugo Multipurpose Blog Theme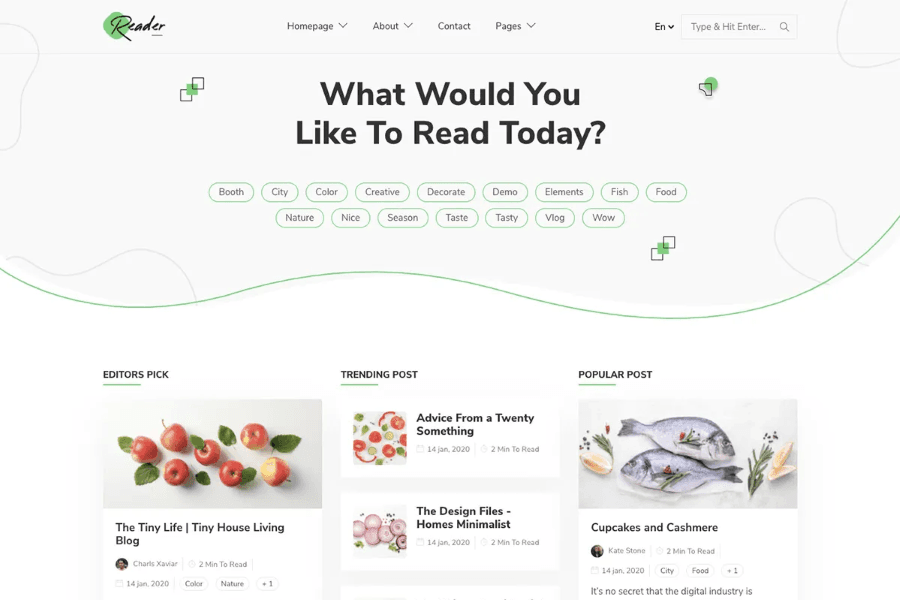 Reader is a multi-author Hugo blog theme that offers a stunning design and overall structure. This theme is perfect for creating any format of the blog site that you prefer. This means you can easily create a personal blog, food blog, creative blog, technology blog, and many more.
This premium Hugo theme offers 10 homepage variations which create a unique blogging experience. You can categorize your blog posts and showcase the post tags on the homepage. Besides the search option, contact form and newsletter form support are also available in it.
More Info
Demo
Reporter- Hugo Travel Blog Theme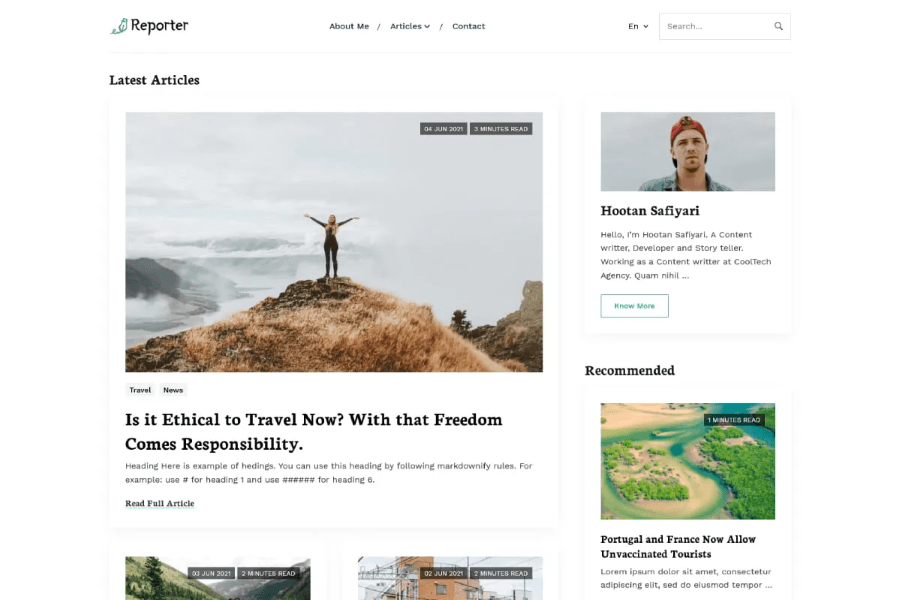 Reporter is a personal Hugo blog theme that offers a minimal design. It's a clutter-free theme that offers simple blogging functionalities. Though the design pattern is simple, it engages the visitors effectively.
Bloggers of various categories, such as photography, lifestyle, technology, travel, etc., can establish their sites. Moreover, you can personalize this theme according to your blog category.
More Info
Demo
Parsa - Free Hugo Blog Theme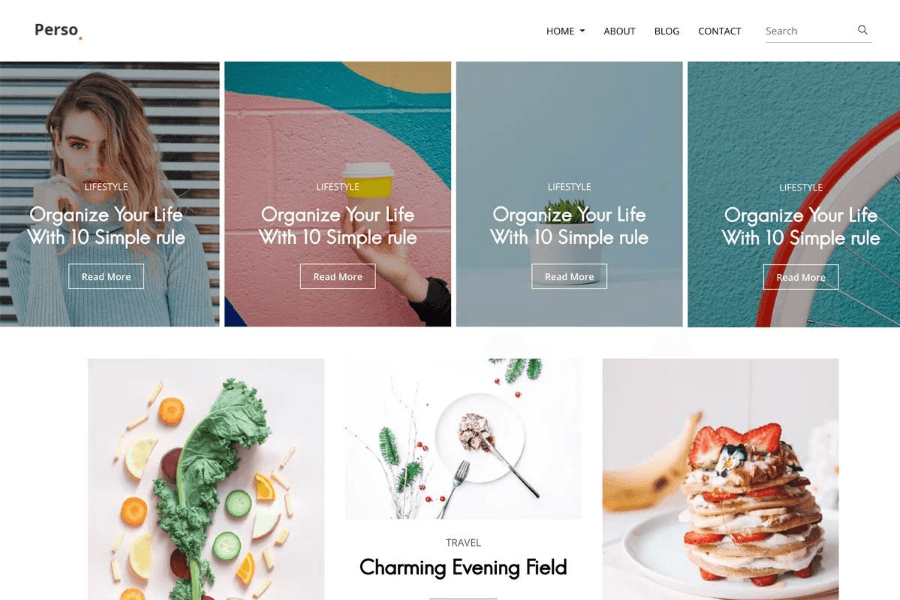 Looking for a content-first Hugo blog theme? Check out Parsa, which creates a refreshing vibe with its neat & clean appearance. Apart from blogging, you can also use this theme to create your personal portfolio site. The overall design of this theme is very organized and simple yet attractive.
Parsa comes with a unique representation of featured images and contents. You will get two different homepage layouts to choose from, an about page and a contact page. Search functionality is also included in this theme for the convenience of the visitors. So, if you are a dedicated blogger, try out Persa without looking further.
More Info
Demo
NorthendLab- Premium Hugo Blog Theme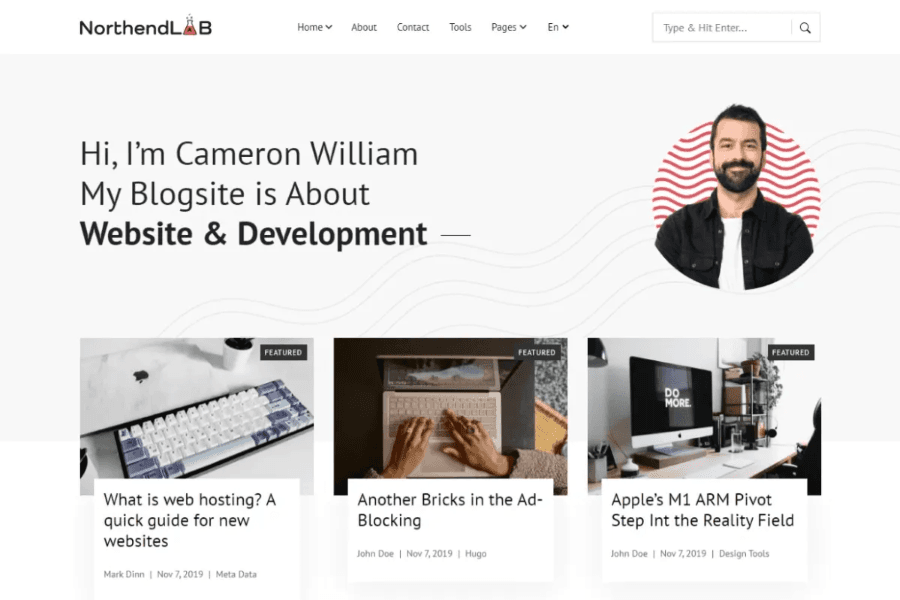 NorthendLab theme is a Hugo portfolio and personal blog theme. The outlook and overall design of this blog theme resemble the Technology & Gaming blog. The blog section is really simple yet effective since it comes with all the necessary blogging features.
Just below the attractive hero area, you will get an eye-catching featured post slider. Then you can showcase popular categories and your posts on the homepage. The Fetureful bog page enables you to display Author info, categories, featured posts, tags, social share, newsletter options, and more. Furthermore, the unique tool page is a unique addition to the theme where you can showcase your favorite tools.
More Info
Demo
Gojournal-  Hugo Magazine Theme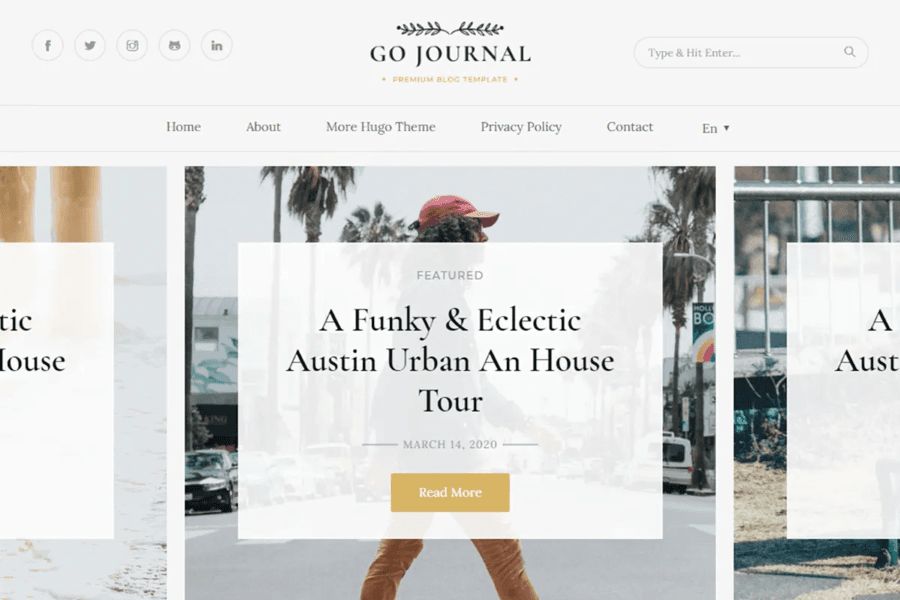 GoJournal is a Hugo magazine theme that offers a minimalist design pattern. This theme successfully increases the readability with its clean appearance. You can present your featured post uniquely using the attractive hero slider.
While using GoJournal, you can display the blog posts in a two-column grid style. Moreover, the theme offers a sidebar widget where you can showcase CTA, Ads, Post categories, and so on. You can also display your Instagram feed within the sidebar widget. Last but not least, there is a sophisticated search functionality for the users to find their desired post.
More Info
Demo
Restaurant - Hugo Food Blog Theme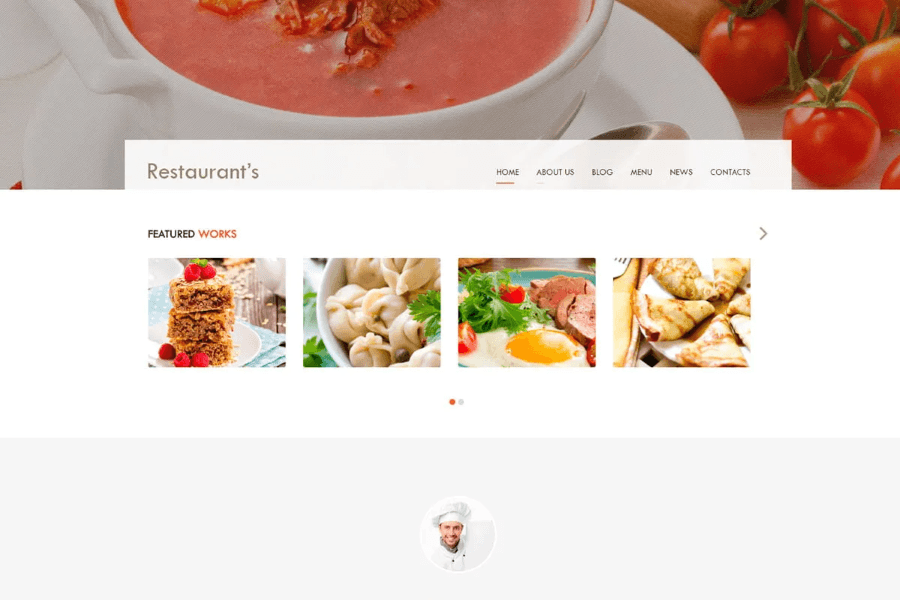 Restaurant is yet another lucrative Hugo blog theme that is fully responsive. It's an ideal theme to establish a blog website related to any restaurant, food business, bakery, etc. Chefs can present their special or personalized recipes creatively using this theme.
This one-page theme creates a professional vibe with its clutter-free outlook. If you appreciate food blogging and are a fan of culinary arts, this theme is an excellent option for your blogging site. Moreover, you can sell any food item by receiving online orders since the theme includes a pricing page.
More Info
Demo
Galaxy - Dark Hugo Blog Theme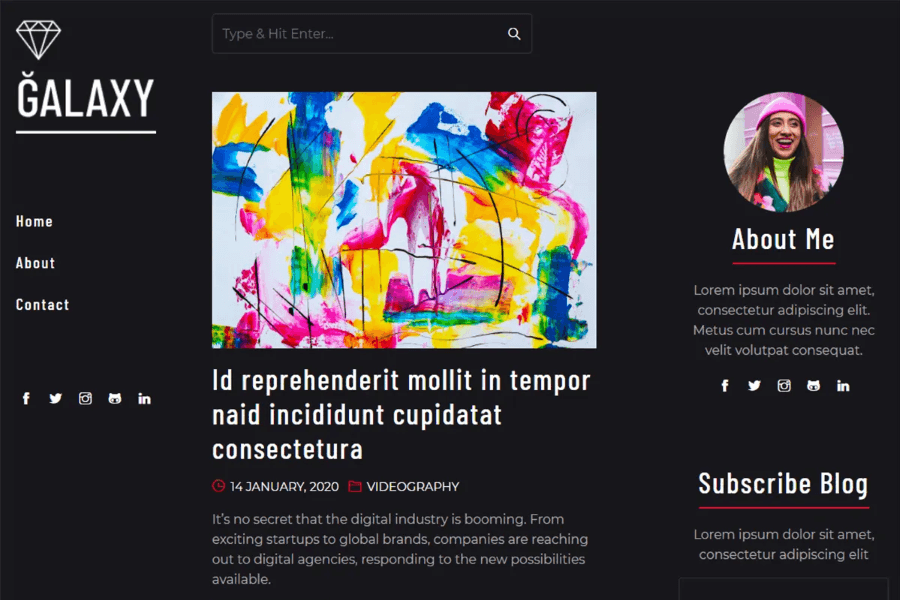 Galaxy is a unique kind of Hugo blog theme that comes with a sitewide dark background. It's a highly customizable theme with various features that are highly engaging.
You can display large feature images of content on the homepage to draw viewers' attention. The menu items and the social icons are placed on the left side. On the other hand, the author info, newsletter form, and featured posts are displayed on the right side.
More Info
Demo
Bookworm - Minimal Hugo Blog Theme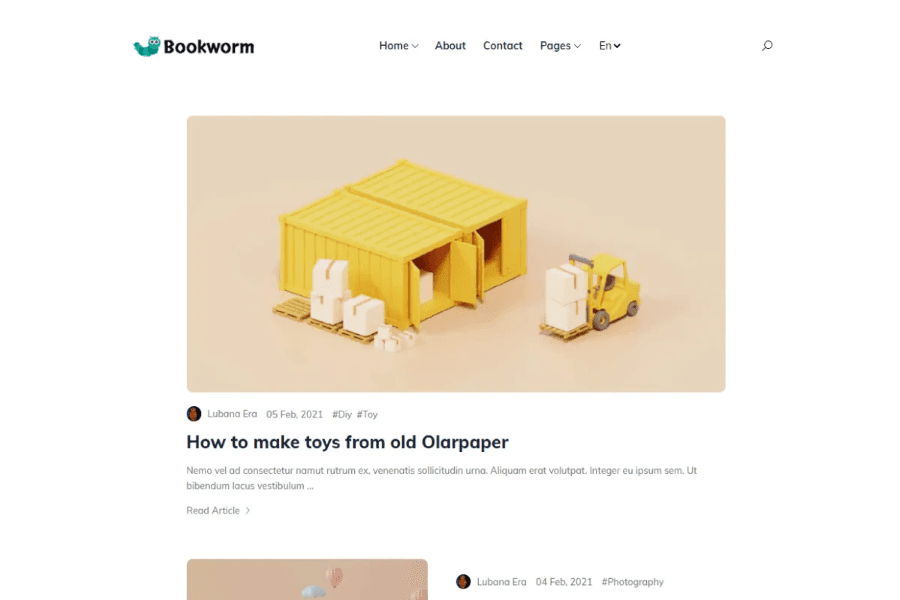 Bookworm is a modern Hugo blog theme that comes with a simple design. With this perfect blog theme, you can represent any category of blog website, including personal, travel, photography, creative, informative, etc.
You will get 2 variations of Homepage layout and 10 distinct pages in this theme. The most recent post is displayed through an image slider, and then comes the recent posts. Moreover, the theme includes separate Author, Tag, and Category pages. Lastly, this theme is multilingual, which means you may convert it into whatever language you prefer.
More Info
Demo
Revolve - Responsive Hugo Blog Theme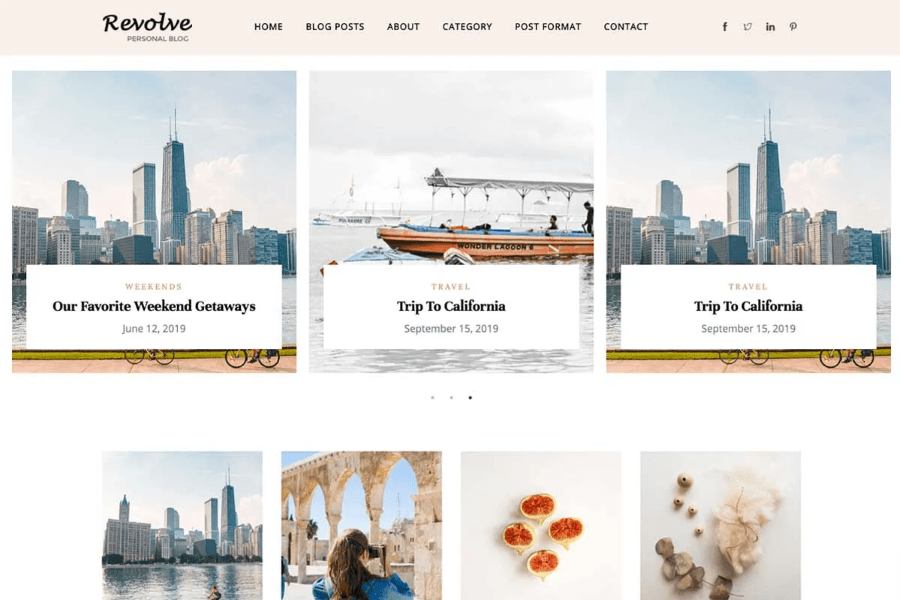 Revolve is a Hugo personal blog theme that comes with an elegant color combination. It's a minimal theme intended for media professionals and photographers who requires their own blog site. Besides, the overall simple design structure is ideal for creating any creative blog site.
The first thing that will catch your attention is the featured post-slider which includes enough space for Images & text. You can represent the blog posts, including the author info, recent posts, and post categories. Due to the simplicity of this theme, readers will enjoy reading the contents without getting distracted.
More Info
Demo
Editor - Hugo Blogger Theme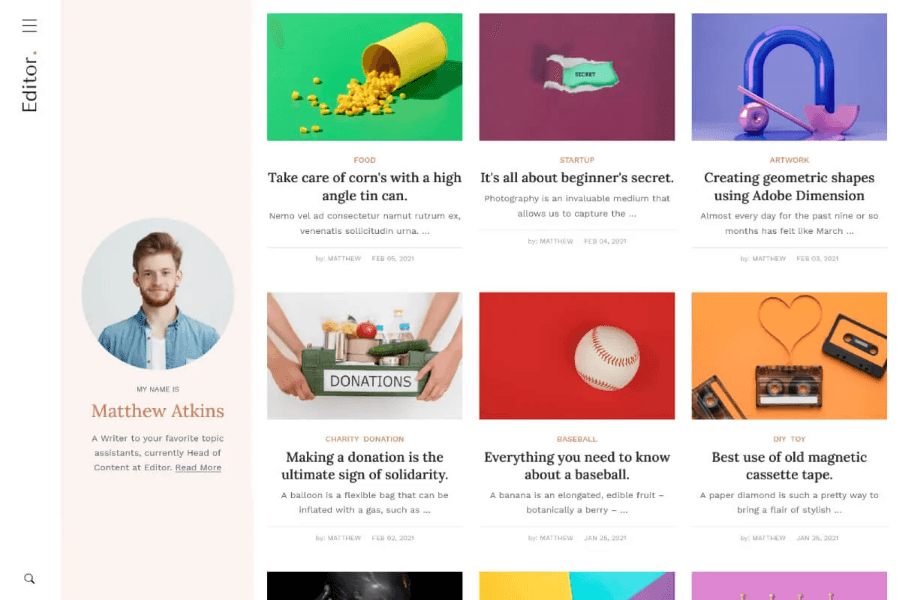 Editor is the perfect blog theme to feature your personal blog website. The theme is simple yet engaging due to its unique outlook.
You will be getting 9 web pages that are completely responsive and adequate to establish a fully-featured blog site. Moreover, the site's overall color scheme, menu placements, and visuals are all suitable for a personal blog site.
More Info
Demo
Moonbooth - Hugo SEO Theme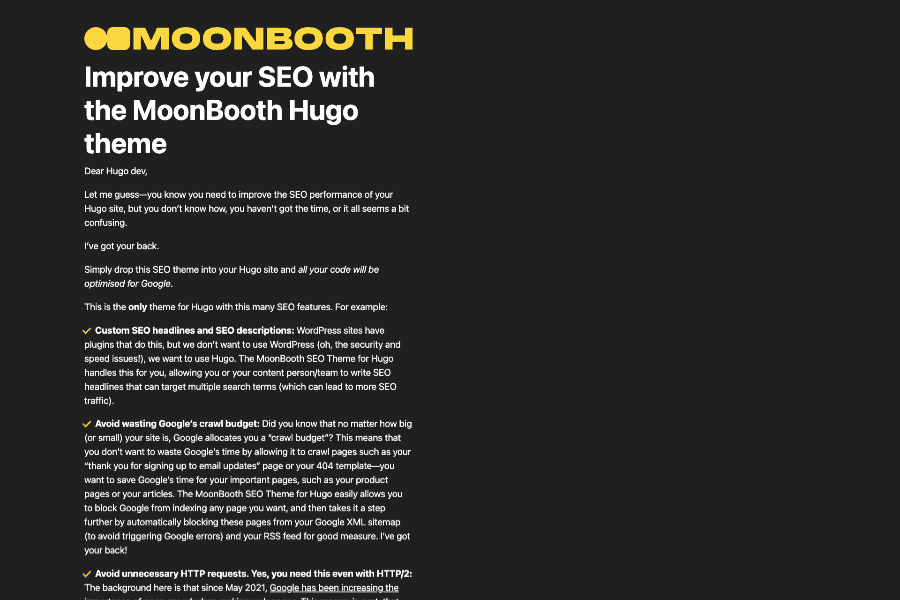 Moonbooth is a hugo blog templates that improves the SEO of your blog site significantly. Therefore, you just need to focus more on content and worry less about SEO while using this theme.
For the blog contents, this theme enables you to craft effective SEO headlines and descriptions that target various search terms. Also, the theme assists you by allowing Google to crawl only the necessary pages of your blog.  You can modify the CSS file without adding an additional style sheet which reduces unnecessary HTTP requests.
Download
Demo
Persian - Free Hugo Photography Blog Theme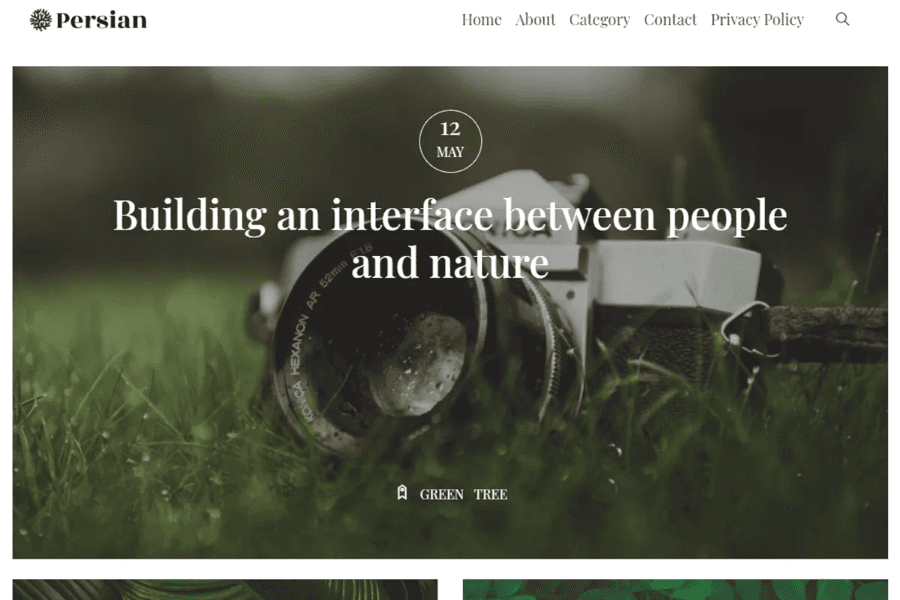 Persian is a uniquely designed minimalistic Hugo personal Blog theme. It's a fully responsive theme that looks stunning on any device or display size. The theme loads your blog contents with blazing fast speed.
The unique blog post representation is eye-catching since it contains a huge space for featured images and content info. You will be getting 5 web pages in Persian, including Home, About, Category, Contact, and Privacy Policy. Moreover, the theme offers fully functional search functionality that will allow visitors to search out any blog post.
More Info
Demo
Nebula - Dark Hugo Personal Blog Theme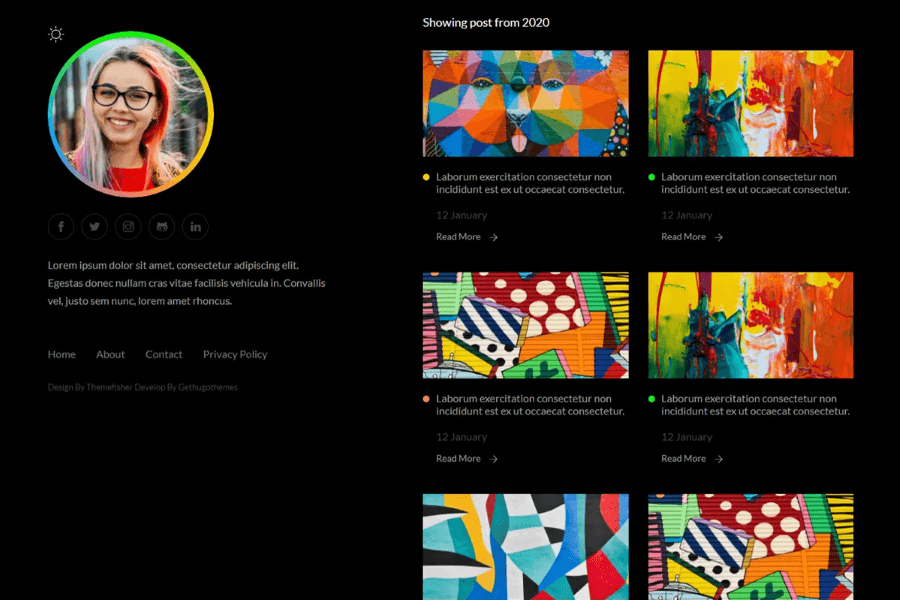 Nebula is an ideal Hugo blog theme that gives you all the essential features to establish your portfolio site. Using this theme, you can effectively share your experience, thoughts, and expertise. Besides, the fast loading time of this theme creates a unique user experience for the visitors.
You can showcase the recent content and author bio on the homepage. Visitors can change the site's appearance between the light and dark modes. Distinguish the categories of your posts by placing different color dots for a different category. You can showcase your detailed posts and work portfolio with a large featured image.
More Info
Demo
Touchy - Simple Hugo Blog Theme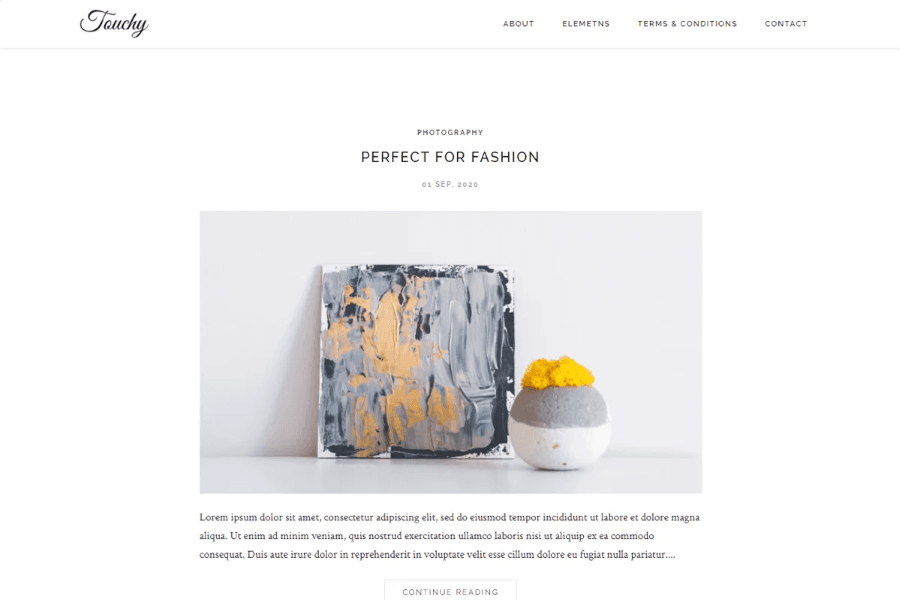 Touchy is an excellent choice if you want a minimal Hugo blog theme that loads quickly. This theme was built with the best SEO practices in mind. This clutter-free theme design encourages readers to focus on the content rather than on any interruptions.
More Info
Demo
The Article - Hugo Personal Blog Website Theme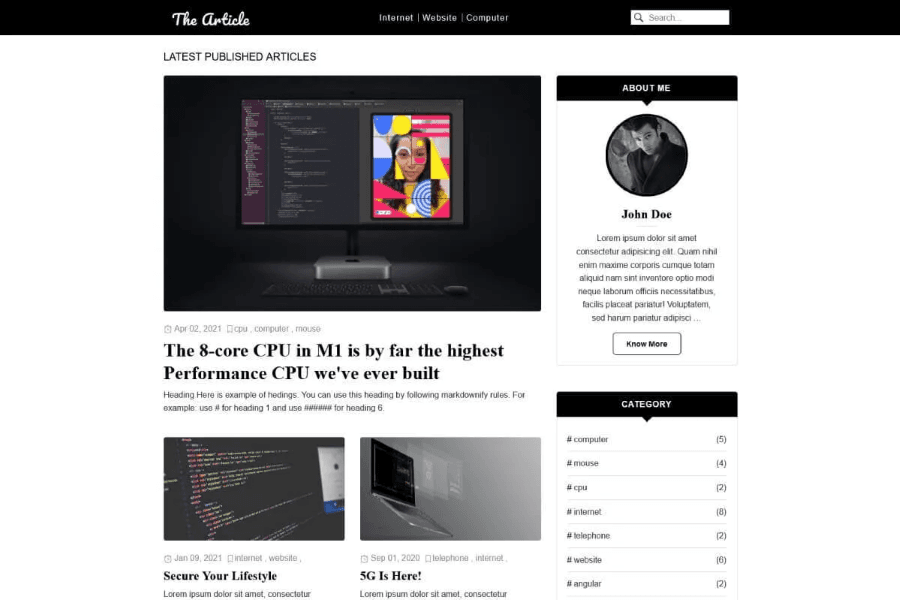 The Article theme comes with a clean appearance that is perfect for creating a unique & personal blog site. You can create any category of blog site using this theme that aims to display content effectively.
Apart from a personal blog site, you can create blogs related to lifestyle, photography, technology, and more. The unique design of this theme displays the blog categories in the menu bar. You can decorate your content using various elements provided in this theme. So, use the Article theme to construct your next innovative site and have fun blogging.
More Info
Demo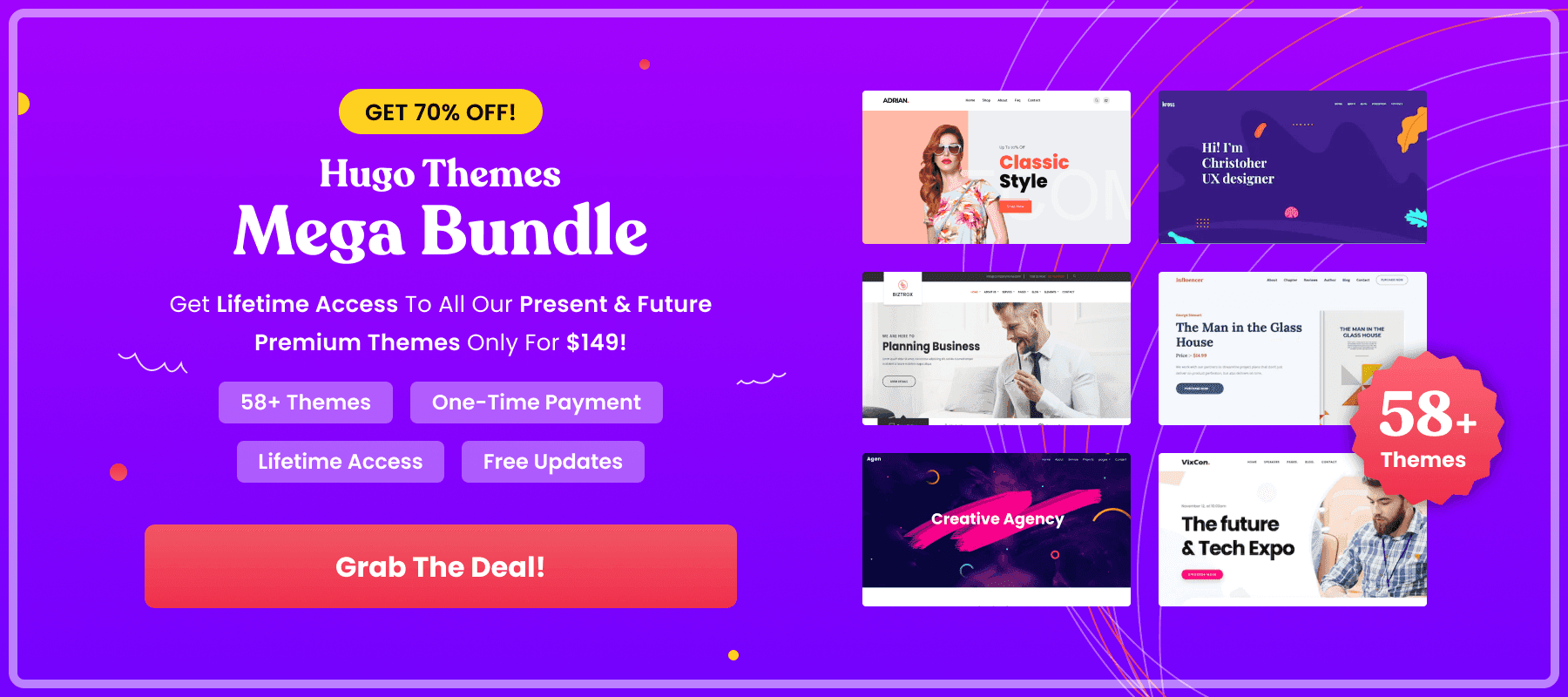 Liva Hugo - Clean Hugo Blog Theme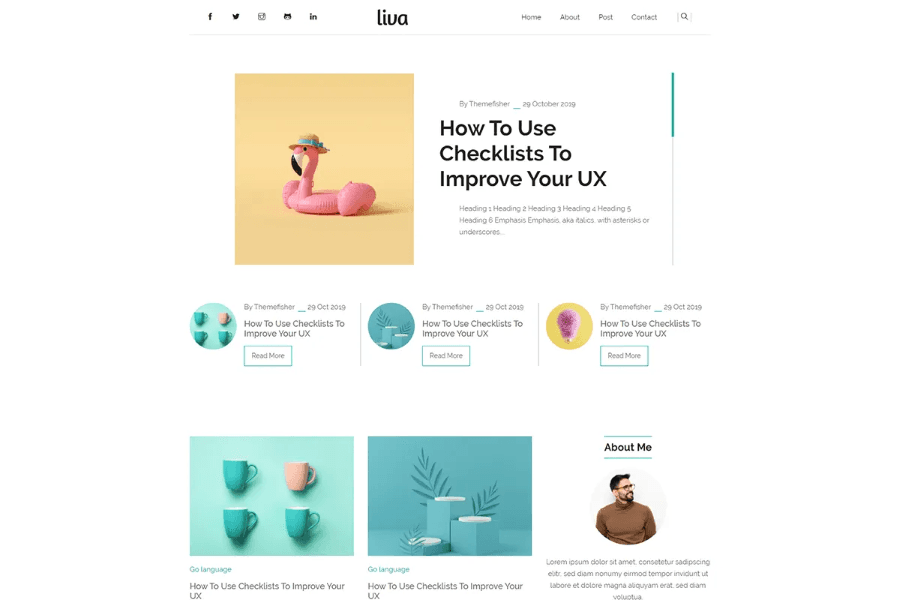 Liva is a fully customizable theme with a simple outlook and numerous advanced features. You can create any type of blog site such as personal, travel, news, magazine, photography, technology, etc.
The uniquely designed hero image with a vertical slider looks pretty amazing. Moreover, you can showcase your posts, author bio, blog category, tag, ad banner, and more on the homepage. You can make the About me page more appealing by posting an Instagram image feed. Additionally, the search option functions properly while searching any site content.
More Info
Demo
Kross - Creative Hugo Portfolio & Blog Theme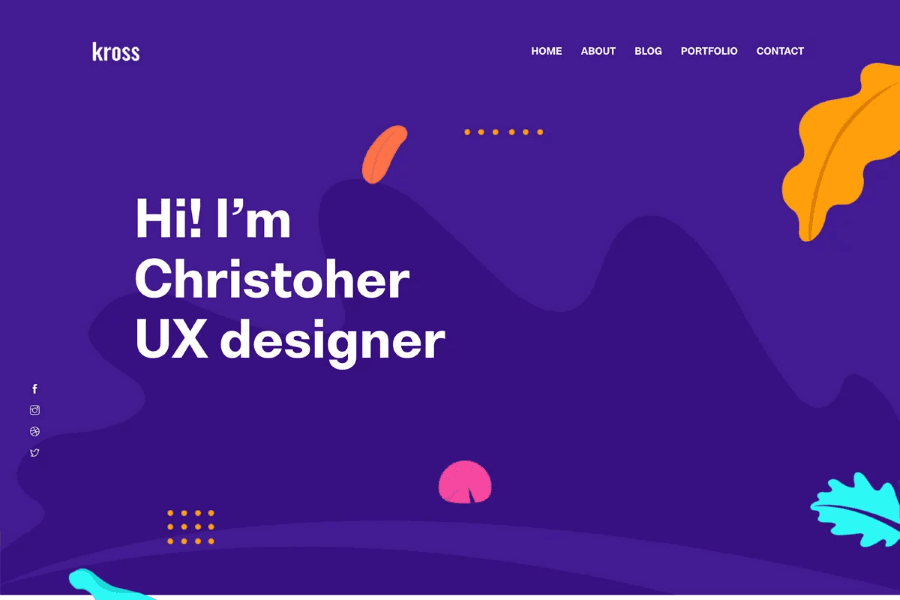 Kross is another eye-catching Hugo blog theme for creating a personal blog or portfolio website. It's the best fit for users that are fond of lucrative illustration, animation, and user-friendly UI.
This theme contains the Home, About, Blog, Portfolio, and Contact pages. On the homepage, you will get sections to showcase talents, experience, education, and credentials. WIth 5 different web pages of Kross, you can take your online presence to the next level.
More Info
Demo
Timeframe - Hugo Artist Blog Theme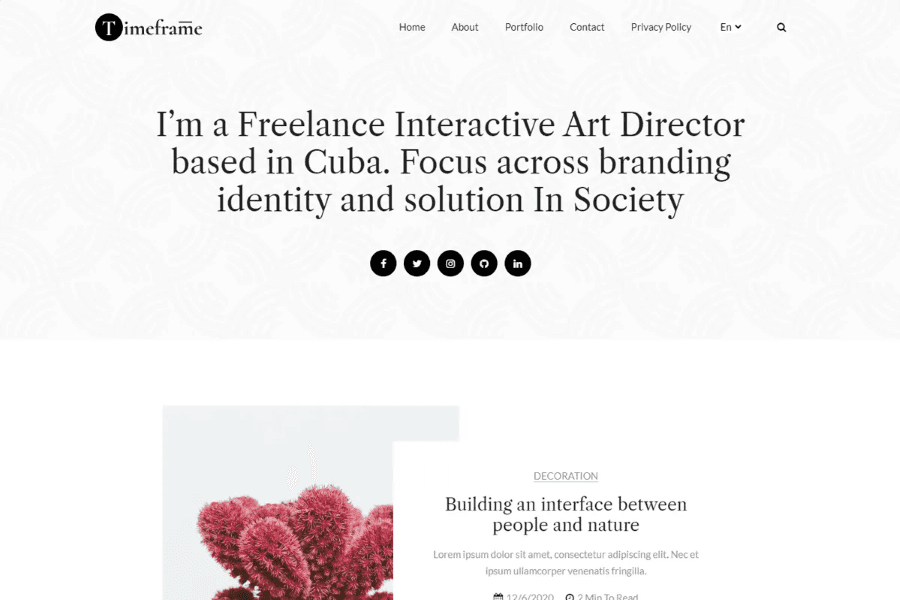 Time frame is a well-structured theme with many features ideal for creating a successful blog site. It's a fully responsive design that looks great on any device. It's also a great choice for those who want to post video and audio content.
In Timeframe, you will get four variations of homepage design layouts focused on grid and list patterns. The portfolio page is designed in masonry style, which looks unique. Besides, you can add your Instagram feed which enhances this theme's appearance.  Last but not least, the theme includes a fully functional search and language translation options.
More Info
Demo
Meghna - Hugo Business Blog Theme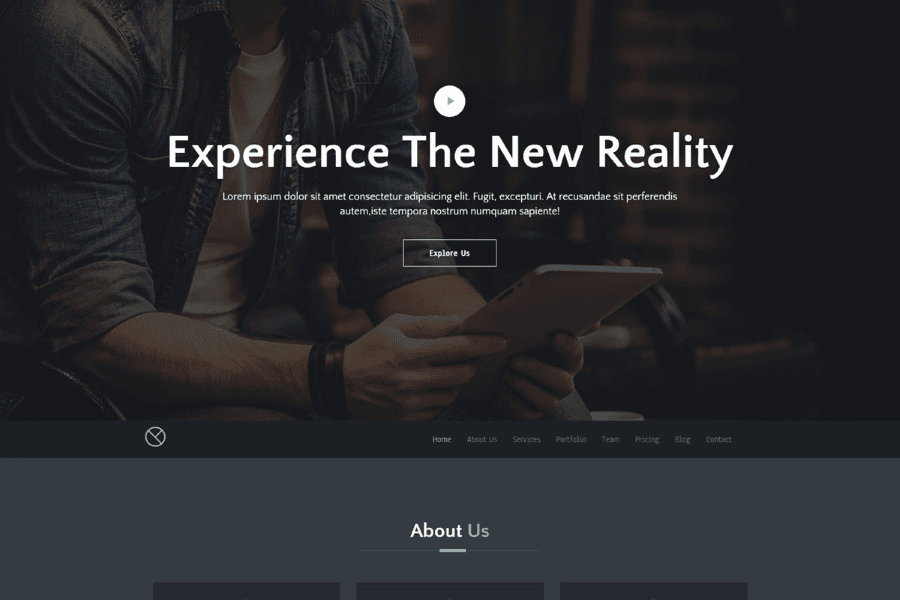 Do you prefer using a darkish theme to create your Hugo blog site?  Then Meghna is your theme which includes all the features to create a perfect blog site. One of the key features is video integration on the Hero area of the homepage.
Meghna comes with sections including About Us, Service, CTA, Skills, Work examples, Latest posts, Pricing, and more. Moreover, the weblog section offers all the functionalities to keep your existing and potential visitors updated about your recent works. So, Meghna is not limited to personal bloggers; it is also suitable for digital agencies, business, and corporate sites.
More Info
Demo
Navigator - Material Design Hugo Blog Theme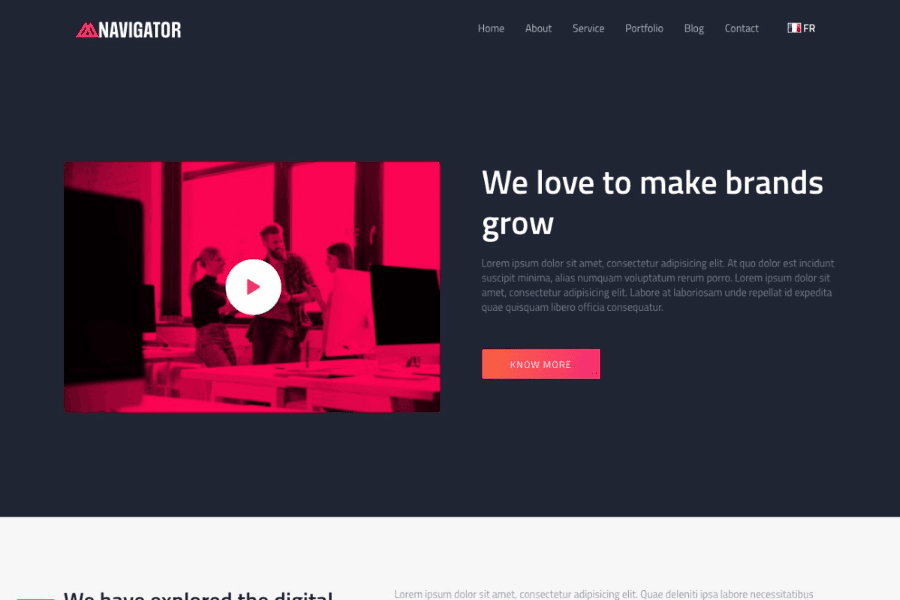 Navigator is made by following the material design concept that Google inspires. It's a multipurpose theme ideal for creating a business, corporate as well as a  blog site. It's a fully responsive theme that looks catchy on different device screen sizes.
First, the hero area contains a section where you can include video content, text, and button. Then comes the About Us, Services, Work Process, Portfolio, Team, Pricing, Testimonial, Blog, and contact us sections. Moreover, this multilingual theme shows a satisfying performance score of 92 on Google PageSpeed Insights.
More Info
Demo
For more Preimum Hugo Themes Visit Here
Twenty Twenty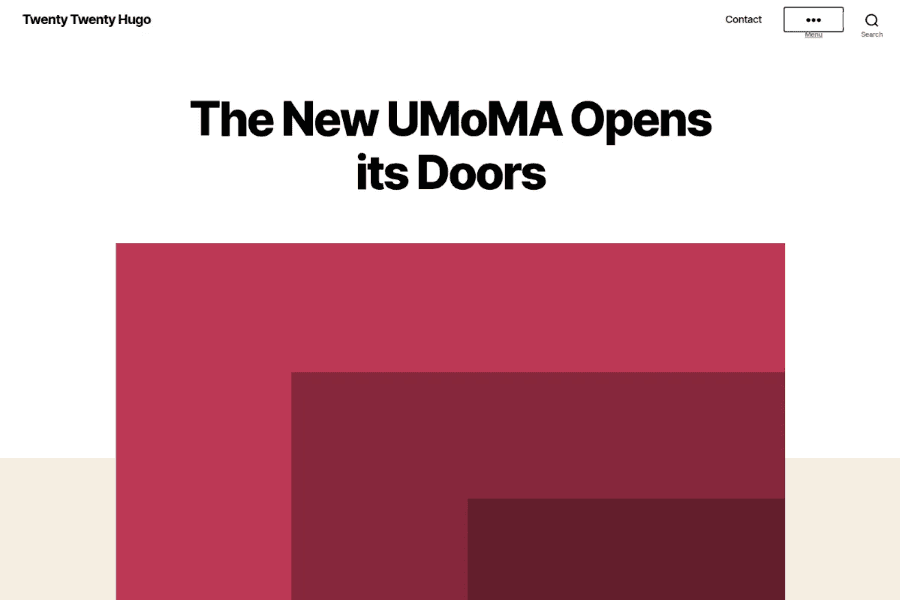 Twenty Twenty Hugo is a minimal Hugo blog theme inspired by a WordPress theme. Using this theme, you can showcase your blog posts on the homepage. Apart from the Homepage, you will get the About, Blog, Contact, and Sample page on this theme.
You will get a vast space on the blog single page to showcase your featured image. Due to clean typography, you will feel comfortable while exploring the site and reading the blog posts.
Download
Demo
Novela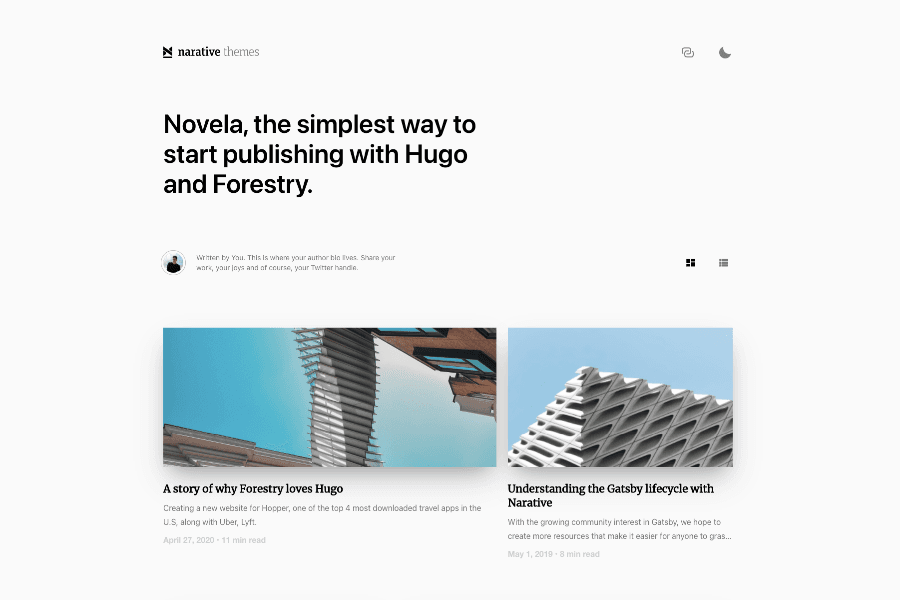 Novela is a Hugo theme that simplifies the content management process for you with a default Forestry integration. The theme offers you some simple yet visually attractive features. You can showcase the posts on the Homepage using a grid or column layout.
One of the shortcodes used in this theme allows you to add a newsletter callout form to any site page. It allows your visitors to send you any emails without charging an additional cost.
Download
Demo
Fjord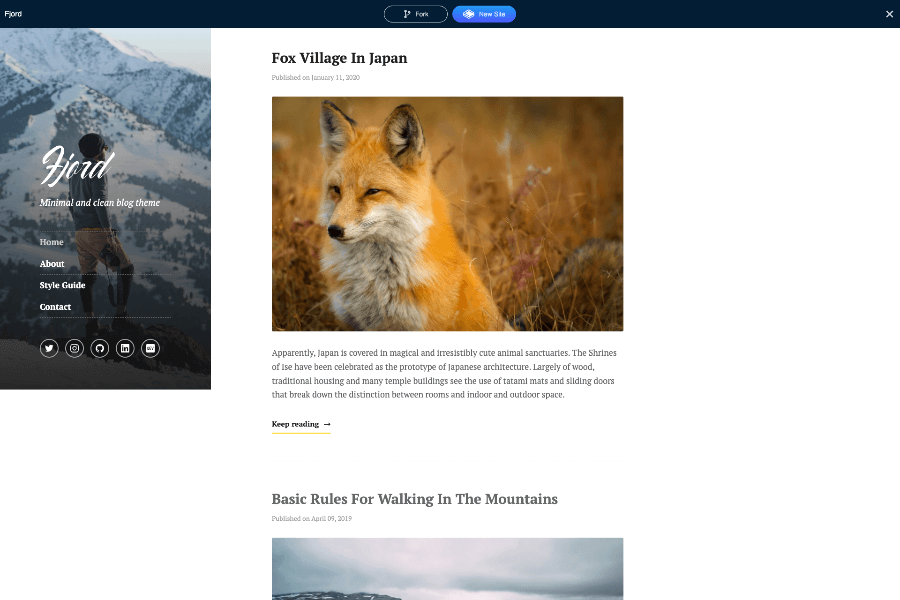 Fjord is a clean and minimal Hugo theme perfect for launching a personal blog site. The theme has left-sided menu options, including Home, About, Style, Contact page, and social icons.  You can showcase your blog posts on the homepage with title, publish date, featured image, summary, and the Keep reading button.
Download
Demo
Hugo Xmag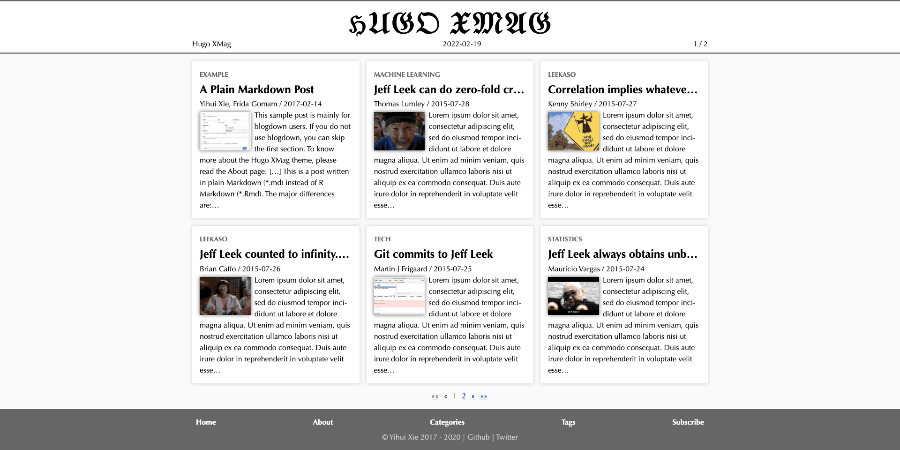 The design of Xmag is inspired by the Hugo theme Xmin and a similar fashion that emphasizes simplicity. The homepage is formatted in a magazine style, and the idea was taken from the Singpost on Wikipedia.
Some of the amazing features of this theme are Responsive article summary blocks on the homepage, Thumbnails in summary blocks, Magazine title in Blackletter, Author and site info, and MathJax for LaTeX math expressions, and more.
Download
Demo
Wrapping Up
You have the chance to choose a Hugo Blog theme from this collection that best fits your blogging niche. So, what are you waiting for? Simply choose a theme and start sharing your knowledge, experience, and story effectively with the right audience.
Visit Here For: Hugo Modules.
Need Experts Help To Build Your Hugo Website?
We have over 5 years of experience in the Hugo industry and successfully completed 60+ client projects. Send us your requirements & let our team take care of everything else!
Hire Us