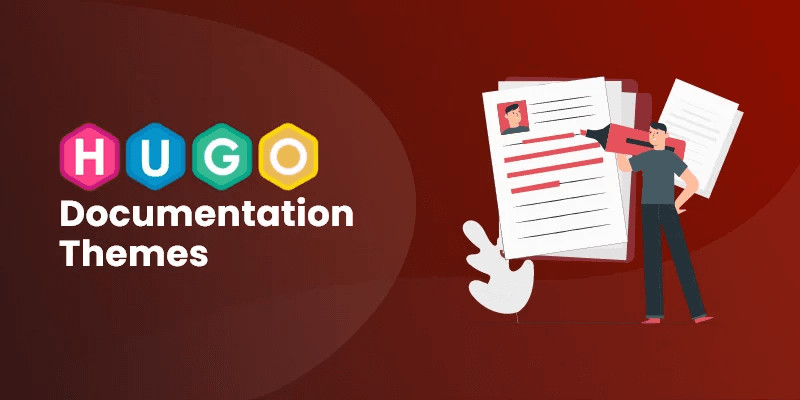 Hugo is now getting popularity day by day especially among who want to avoid database and site speed issue. Hugo is a static site-building platform and is well known for its blazing-fast loading speed. Now big software and technology companies are converting their static site in Hugo. Some well know firms are building their Documentation site using the Hugo ecosystem. Building the documentation site in the Hugo environment has lots of advantages like no speed issue, No security issue, Easy to edit, etc.
Hugo documentation themes are specially designed for the documentation site focusing on readability. Currently, there are very few quality Hugo documentation themes available in the market. To find out the best theme for your project is so much time-consuming work, reduce that time and use in productive work here we bring a list of Hugo documentation themes to find out the perfect choice for your project.
GoDocs -Best Hugo Documentation Theme [Editor's Pick]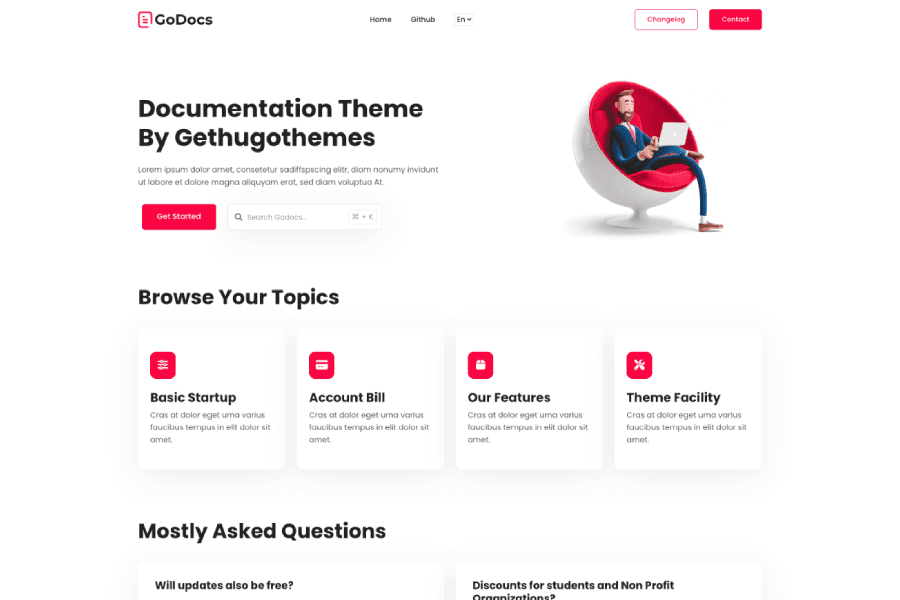 While making a documentation site, you need to publish easy-to-understand content within a user-friendly interface. GoDocs is a perfect Hugo documentation theme with a basic but engaging design that makes reading documentation enjoyable.
GoDocs offers unique features beyond the classic hugo knowledge base theme. You can use it for software, API, frameworks, plugins, website templates, and more. Also, you'll get 4 alternative template variants, each with its own style and overall structure.
The search functionality of this theme is essential for users to find out their required documentation easily. There is a language translation option that helps visitors read the documentation in their preferred language. The menu orientation is different in each template style. Moreover, you will get a FAQ section and support ticket submit option for any further queries.
More Info
Demo
Docbox - Modern Hugo Documentation Theme
Docbox is a uniquely designed Hugo documentation theme. It is powered by Hugo and TailwindCSS, making it a fast, easy-to-use, and highly customizable option for any type of documentation website. Whether you are creating user guides, API documentation, or technical manuals, Docbox can help you create a beautiful and informative website that your users will love.
Key Features:
95+ Google PageSpeed Score (On Desktop)
Built with Hugo and TailwindCSS framework
Highly customizable (Color, Font, Menu, Social Links, SEO Meta Tags, etc.)
Netlify Pre-Configured
Multilingual Support
Automatic Search
Reusable Shortcodes
No jQuery. Only Vanilla JavaScript
SEO Friendly
Simple and easy development environment setup
More Info
Demo
Dot - Best Free Hugo Documentation Theme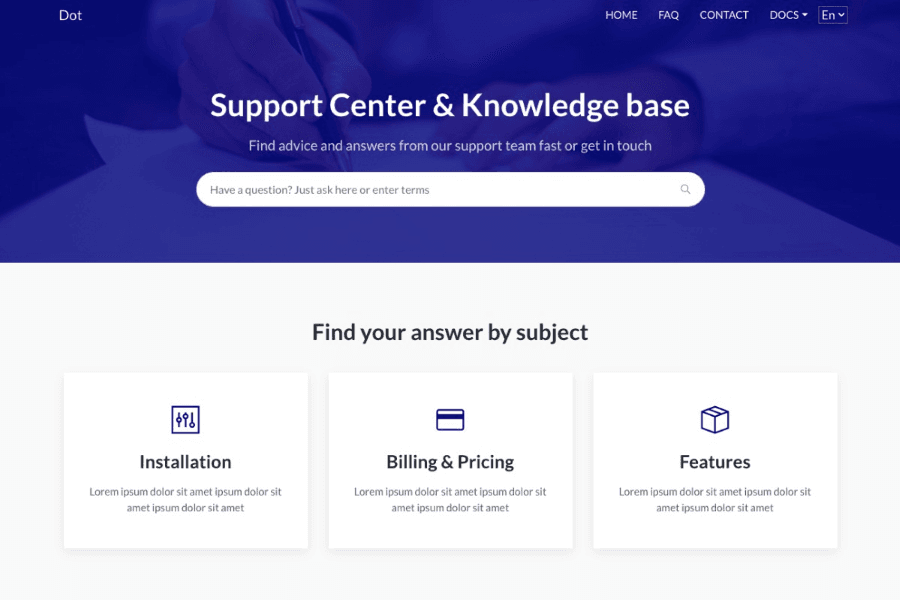 Dot is a modern-looking responsive free documentation Hugo theme that can help you make online documentation websites quickly for your next software development project. You can use this theme for documenting API, Framework, plugins, templates, etc. Dot comes with a very minimal and clean design focus on a better reading experience. It also has some useful features and components that will help you make documentation easier. This theme is based on bootstrap so you will not face any responsive issues it will fit all screen sizes. Though it is powered by Hugo so your site loading speed will be faster than any other framework. You can download this theme free from GitHub. But for extended customer service and to support our development work you can buy the theme from our website.
More Info
Demo
Learn - Hugo Documentation Template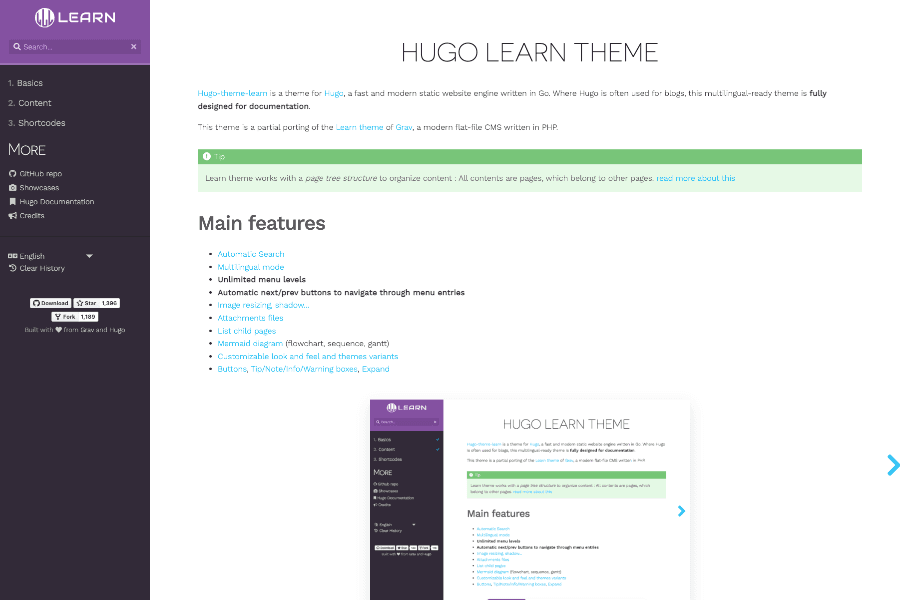 Learn is one of the most popular documentation themes based on the Hugo platform. This theme has been forked over 1200 times in Hugo. It is based on the Learn theme of Grav. The theme looks simple but includes all the essential features to establish a complete documentation site.
Readers can enjoy reading the documentation in their preferred language since its a multilingual theme. The automatic search functionality allows visitors to easily search for their required info or documentation.
Users can navigate through the menu entries using the automatic next/prev buttons, which look amazing. Furthermore, the theme is highly customizable and allows you to resize images & shadows, attach files, include a mermaid diagram, modify the look and feel, and add more elements.
Download
Demo
Kube - Hugo Documentation Theme For Developers & Designers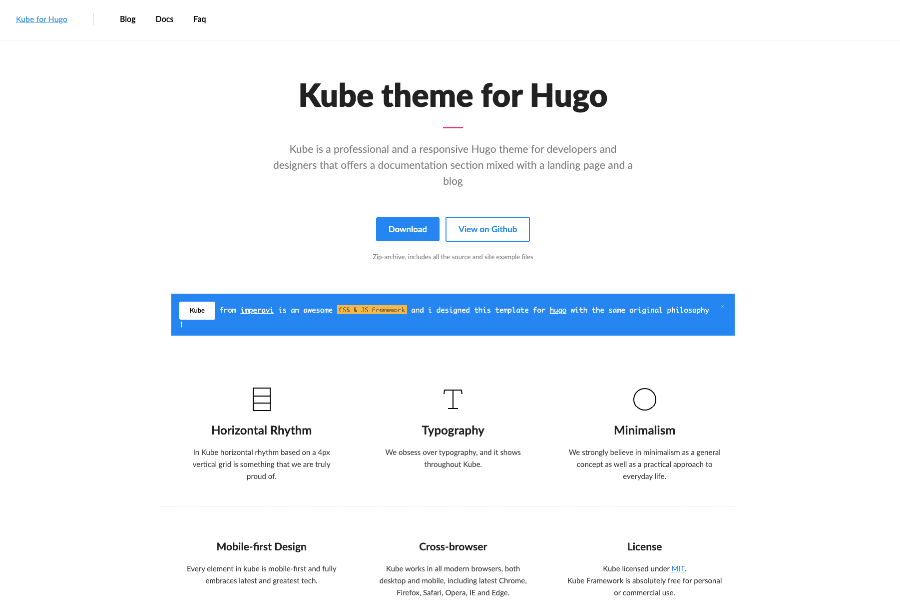 Kube is another responsive Hugo documentation theme created with designers and developers in mind. It's MIT-licensed and completely free for both personal and commercial usage.
A horizontal rhythm was implemented on this theme based on a 4-pixel vertical grid. Besides, it comes with beautiful typography that is visually appealing. Also, this mobile-first template offers cross-browser support. Since Hugo powers this theme, the loading speed of this theme is incredibly fast.
Download
Demo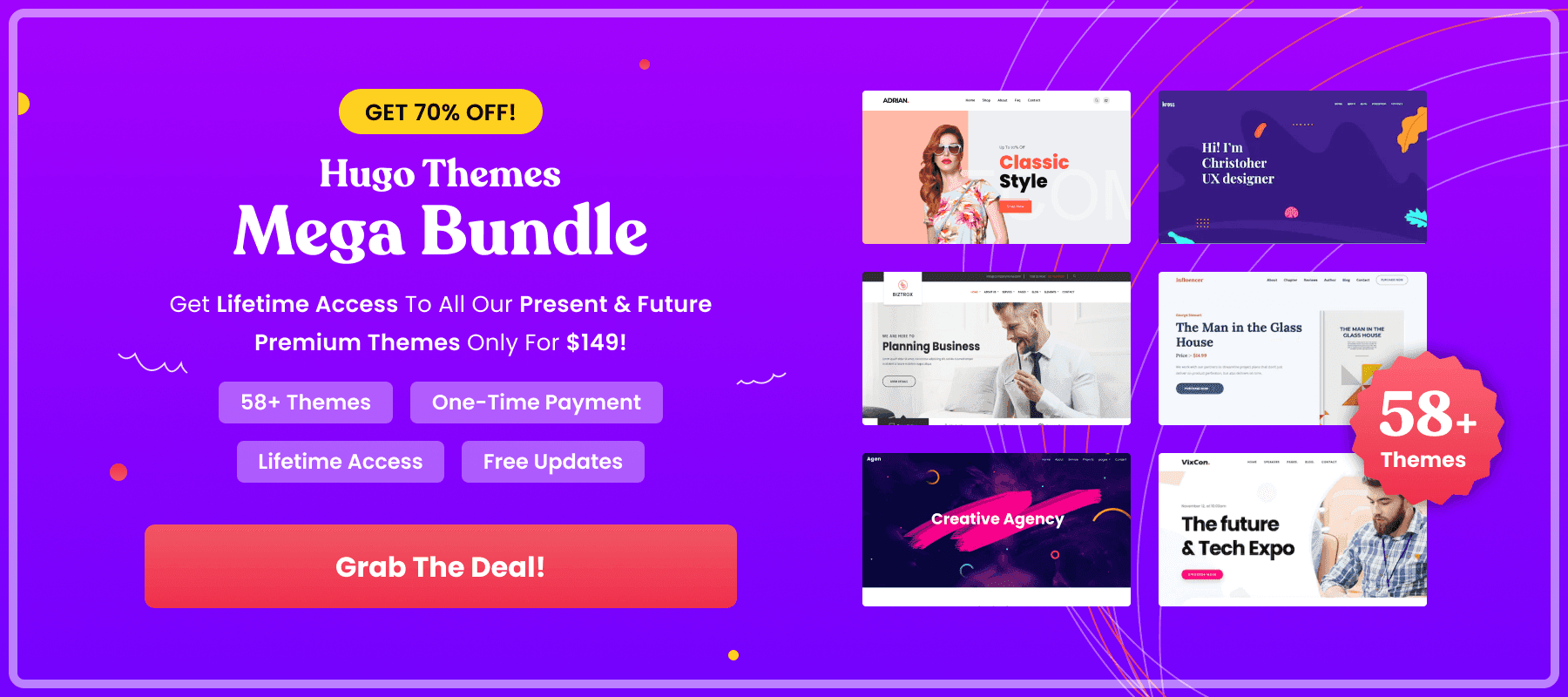 Docdock - Simple Hugo Documentation Theme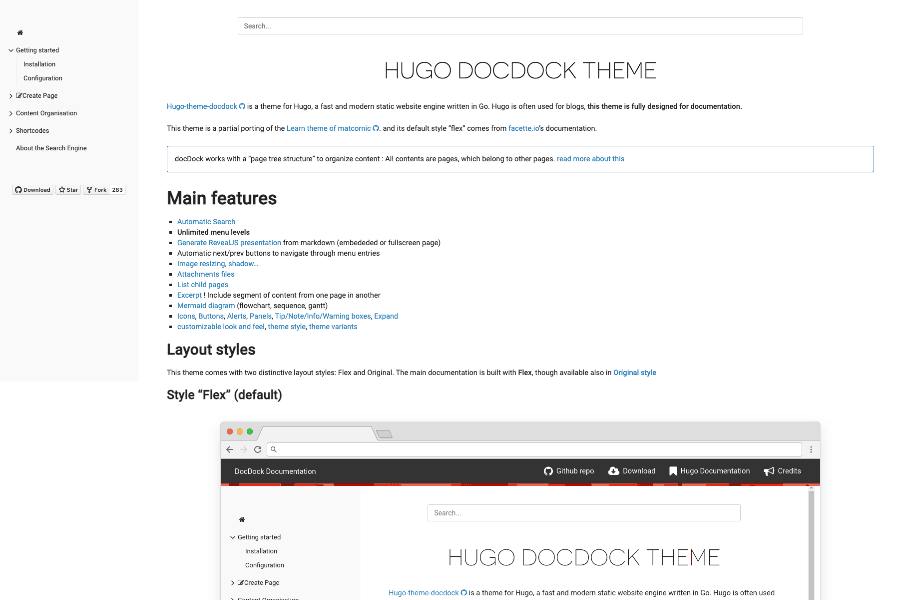 Hugo Dockdock theme is a minimal Hugo theme specially designed for documentation. This theme was inspired by the Learn theme of Matcornic, and the style "flex" was implemented from facette.io documentation.
This theme includes an automatic search option essential to search out any documentation quickly. You can add menu levels as you wish since unlimited menu levels are allowed. The menu navigation process is made easy using the automatic next/prev button.
For content representation, the RevealJS presentation was adapted. You may also incorporate file attachments, a mermaid flowchart, and content segments from one page to the next.
This highly customizable theme allows you to customize the look and feel of the theme along with the style and variants. You can resize the images and shadows to enhance the visual components.
Download
Demo
Docuapi - API Documentation Theme For Hugo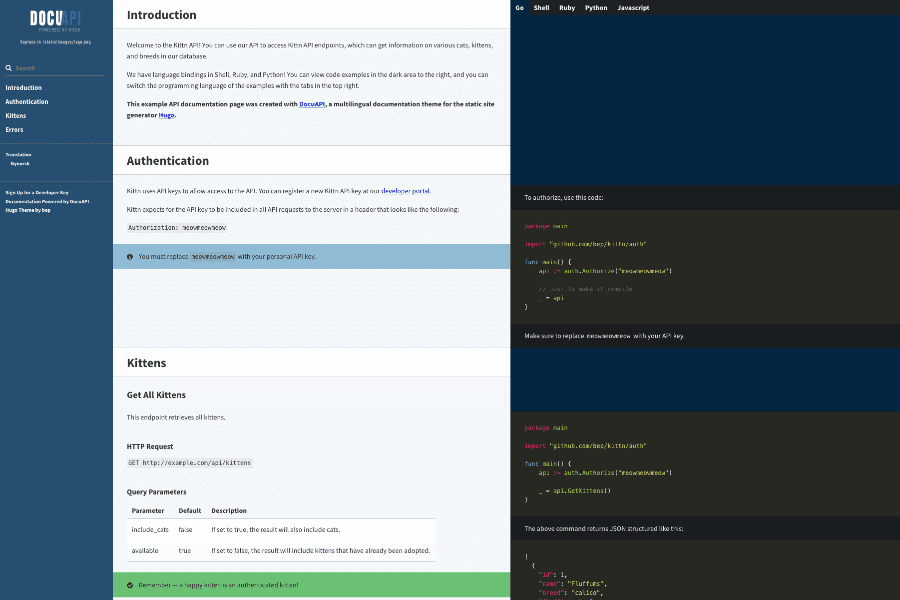 DocuAPI is a stunning API Documentation theme for the Hugo platform. This theme was crafted based on the excellent work of Robert Lord and others involved in the Slate project (Apache 2 License).
Docuapi is a multilingual theme made with a unique outlook and overall structure. A search option is available to find out any documentation available on the website. Then comes the scrollable menu options on the left side that make your browsing effort smoother. Followed by there is a language translation option.
The content is displayed in the center of the webpage, followed by the code section on the right side. You can explain your topic in plain text in the center and coding on the right. Also, you can represent various coding languages for the same content. This theme will create single-page API documentation using all the (non-draft) site pages.
Download
Demo
Doks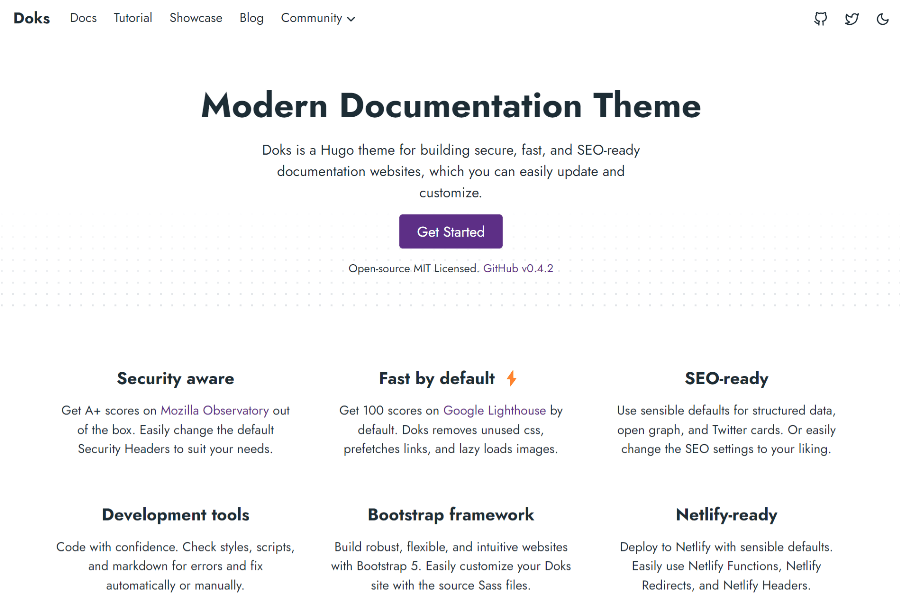 Download
Demo
Docsy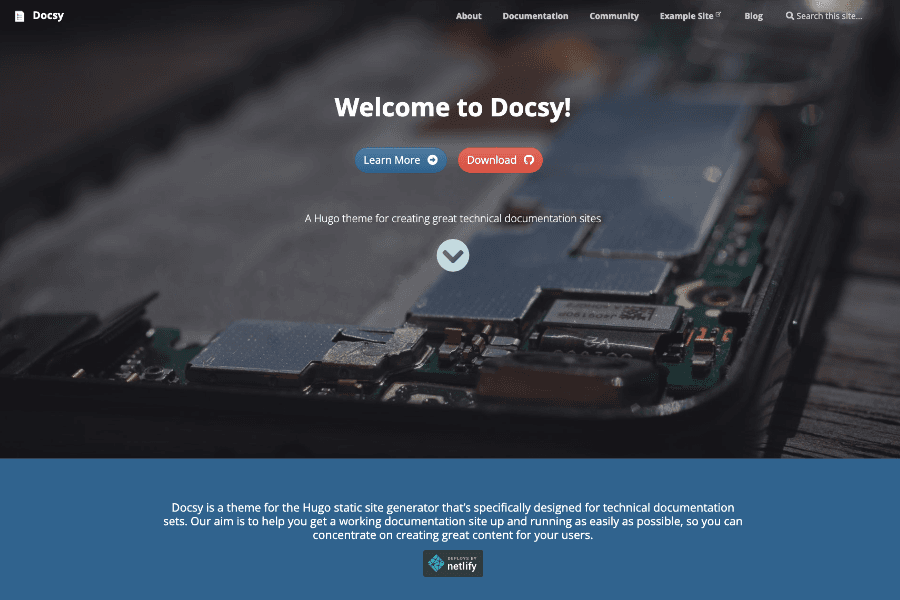 Download
Demo
Wrapping Up
When creating a documentation website for your valuable business or project, you shouldn't select a theme just for its sake. Your goal should be to publish the documentation on your website and ensure it is accessible immediately and efficiently. This is how your clients and visitors will get the most out of your product or service.
We've included some of the greatest documentation themes available to cut down on your search efforts. But this is only the ocean's surface where you are getting a glimpse of some of the themes. We recommend you to visit Themefisher if you want to go deeper and get additional themes that fit your budget, requirements, and abilities.
Need Experts Help To Build Your Hugo Website?
We have over 5 years of experience in the Hugo industry and successfully completed 60+ client projects. Send us your requirements & let our team take care of everything else!
Hire Us