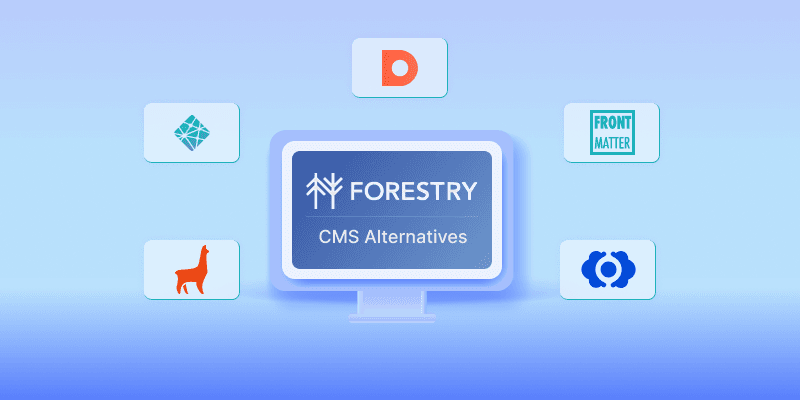 Due to the recent announcement that Forestry will be discontinuing its service, many website owners and developers using Hugo as their static site generator are scrambling to find a suitable Forestry CMS alternative. While the loss of Forestry is certainly disappointing, it does present an opportunity for users to explore other options and potentially find a better fit for their needs.
We have been using forestry.io for our own projects. In order to move on to another CMS, we have been trying & testing a lot of different CMS. We have tested and evaluated each of these alternatives based on a number of different factors and functionality.
In this blog post, we will take a look at five of the best Forestry CMS alternatives for Hugo. From powerful content management systems to simple and user-friendly options, these alternatives will provide the tools needed to keep websites running smoothly.
As we dive into the list of alternative CMS options, it's important to note that the best option for you will depend on your specific needs and requirements. When looking for a replacement for Forestry or simply looking to improve your current workflow, there are several factors to consider, such as user-friendliness, flexibility, scalability, security, support, integration, and cost.
How to Identify the best CMS for Hugo?
Content Administration: Look for a CMS that allows flexible user accessibility and gives you the ability to grant editorial access to your preferred users.
Website Configuration: Select a CMS that can manage your website's content and other elements or settings, such as Menu, Configuration, Image file type, etc.
Page Template: Look for archetype page templates to efficiently display your preferred content elements on your web page.
Team and Collaborators Management: Look for a CMS that allows for easy management and collaboration with your team members.
Shortcode Template Support: Check if the CMS supports shortcodes, which can be used to easily add dynamic elements to your website.
Rich-Text Support: Look for a CMS that offers rich-text editing capabilities for creating visually appealing content.
Live Preview Support: Ensure your headless CMS for Hugo provides you with a Live Preview of your website before publishing.
Cost: Consider the cost of the CMS and ensure it fits within your budget.
Support: Consider the level of support and resources available for the CMS.
List of Forestry CMS Alternatives For Hugo
There are several alternatives to Forestry CMS available for Hugo-based websites and below are five of the best options. Each alternative has its unique features, pricing, and ease of use, so users should take the time to compare them in order to find the best fit for their website.
Tina - Best Open Source Git-Based CMS For Hugo
Tina is an Open Source Git-Based Content Management System that enables website owners to create and manage content seamlessly. It has an intuitive UI to help you organize and preview your content. Tina CMS also has a powerful templating system to manage content types, and a version-control system to track changes and ensure that content is published securely.
Key Features:
Real-time Content Editing: Make adjustments and see the changes immediately.
Dynamic and Static Support: Utilize GraphQL data layer for filtering, sorting, pagination, and more on Markdown content.
Offline Development: Use Tina on your local machine and interact with local files.
External Media Support: Store media assets in the repository or connect to external services such as S3 or Cloudinary.
Reusable Blocks: Create blocks that can be edited and assembled by your team.
Large-Scale Markdown Handling: Tina can handle large-scale Markdown content with great performance and without limitations from GitHub.
Custom Shortcode templates support
Visit Website
If you need help migrating from Forestry to Tina CMS, Zeon Studio can assist you in having a smooth & hassle-free migration.
CloudCannon - Premium CMS For Hugo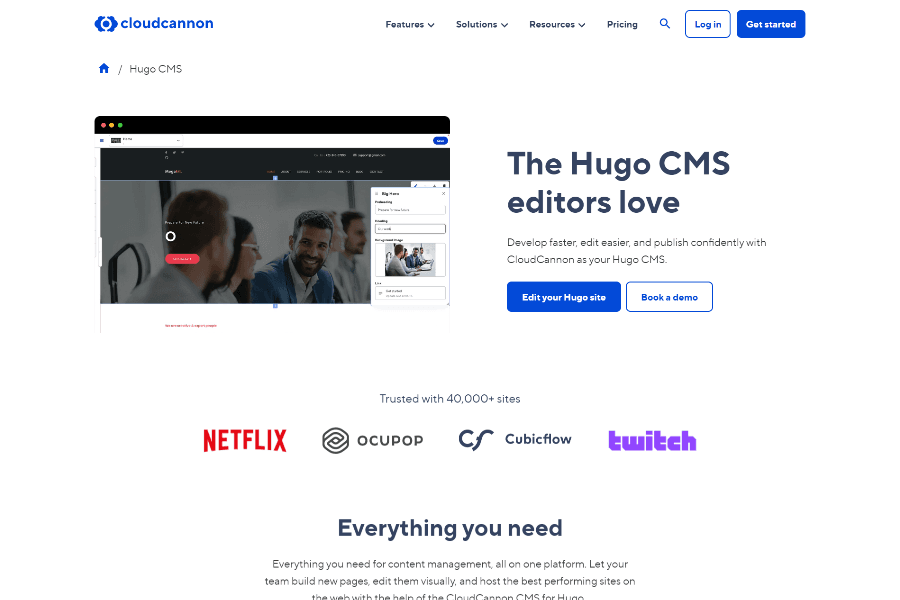 CloudCannon is the premium content management system for Hugo. It offers an intuitive, user-friendly platform for creating and managing Hugo websites, with a range of powerful features to make managing content a breeze.
Key Features:
Real-time editing: Allow editors to make changes and see them immediately on the page with a customizable interface
Efficient page building: Create complex layouts using pre-built components and share component libraries with editors
Tailored editing interface: Customize the interface to fit any content model and streamline content workflows
Global reach: Tag content for translation for international accessibility
Built-in version control: Use Git-based version control to track all code and content changes and easily roll back sites
Team collaboration: Share work instantly and deliver sites faster with two-way Git syncing
Visit Website
Decap CMS - Lightweight Open Source CMS For Hugo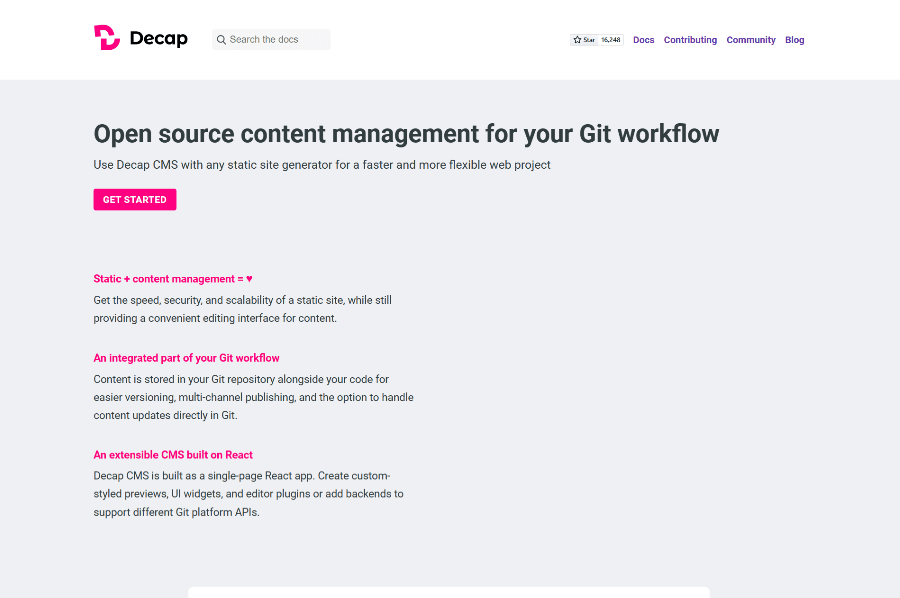 Decap CMS is a free and open-source CMS for Hugo that lets you create, edit, and publish content for your website with an intuitive, modern interface. It is ideal for small to medium-sized websites as it eliminates the need for complex coding, allowing you to focus on creating quality content.
Note: The development of the CMS has not been directly led by Decap for at least over a year, but the company still contributes when possible. The code for the CMS is available for anyone to use and extend under the license. The Support and Forums teams for Decap are unable to provide an answer to your question, as it is not within their scope of support.
Key Features:
Fast, user-friendly interface: Includes rich-text editing, real-time preview, and drag-and-drop media uploads
Platform-independent: Compatible with most static site generators
Simple setup: Only requires adding two files to your site and connecting to the backend through your build process or CDN
Advanced authentication: Utilizes GitHub, GitLab, or Bitbucket and JSON web tokens
Customizable content types: Unlimited options for content types with custom fields
Highly customizable: Allows for creating custom-styled previews, UI widgets, and editor plugins
Visit Website
Front Matter - CMS Runs Within Visual Studio Code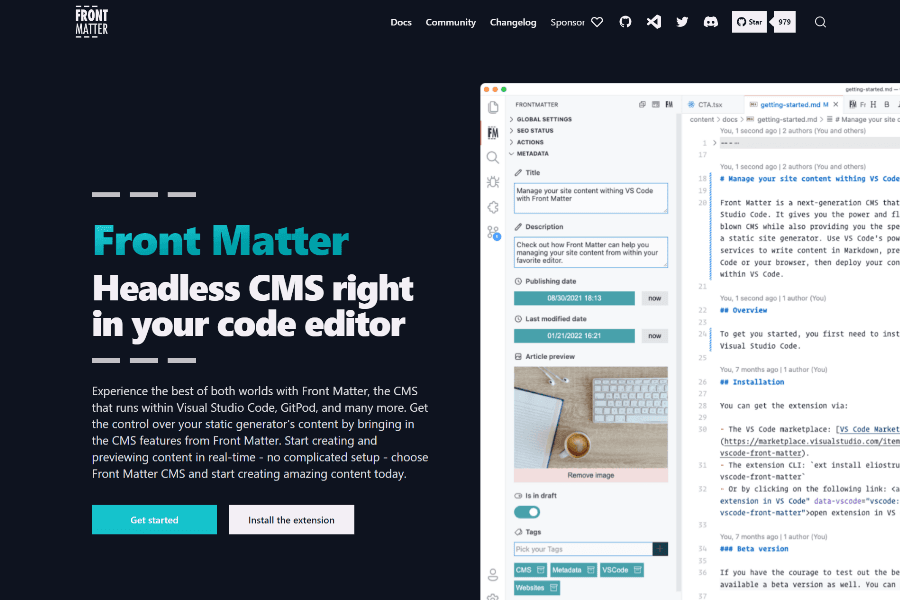 Frontmatter is a lightweight, open-source content management system designed for developers who want a simple and efficient way to manage their website's content. It is built for use with static site generators like Hugo and allows for real-time editing and previewing of content.
Key Features:
100% secure CMS that is built right into Visual Studio Code, eliminating the need for separate accounts or dependencies on external websites or APIs
Allows for offline work and commits changes when online, ensuring that internet outages don't impact content management
Gives you complete control over your content by allowing you to define and customize your own content types to fit your specific needs
Built-In preview feature allows you to see changes in real-time and make adjustments on the fly, directly within Visual Studio Code
Dashboard for managing all your content, media, snippets, and data files, with easy filtering and quick actions for the organization.
Includes SEO checks to help you create better, more optimized articles
Fully configurable to your needs, with the ability to customize your editor experience and add custom scripting for automation of tasks.
Visit Website
Conclusion
In conclusion, the discontinuation of the Forestry service has created the need to find a suitable alternative. After thorough research and evaluation, we have highlighted five of the best alternatives to Forestry CMS for Hugo-based websites. TinaCMS, CloudCannon, Decap CMS, DatoCMS, and Frontmatter are all powerful options that provide the necessary tools and features to manage and maintain your website effectively. Ultimately, the best CMS for you will depend on your specific needs and requirements, so it's important to evaluate different options and choose the one that best fits your needs.
If you need help migrating from Forestry to another CMS, Zeon Studio can assist you in having a smooth & hassle-free migration.